Electric cars and buses are the future of transportation. Multiple goals: 1. Reducing fossil fuel dependence, 2. Carbon taxes and 3. Urban pollution/emission targets will drive rapid adoption of emission-less electric cars in the coming two decades. According to McKinsey's forecasts, future cities could have up to 50% electric vehicles by 2030.
We recently got an opportunity to visit the KPIT facility in Pune to see their electric bus R&D and manufacturing set up. We also saw the electric bus in operation, and got a nice ride in it around Hinjawadi in Pune. This bus was inaugurated at the Indian Parliament in December 2015 by the Hon. Prime Minister Narendra Modi.
KPIT has been working in the area of hybrid (electro-mechanical) powertrains for many years now. Their 'Revolo' solution for converting existing IC (Internal Combustion) engine powered cars and buses into hybrid vehicles, has been field tested for over 150,000 km.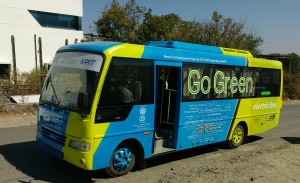 The KPIT Electric Bus leverages and builds on this R&D and manufacturing experience. KPIT has filed over 20 patents in this area. Do note, in some aspects, an electric vehicle is simpler than an Electric-IC engine hybrid. Even if you leave aside the IC engine, a hybrid vehicle has to deal with power distribution, switching across the two power trains. In electric vehicles, there is no switching, as there is a single power train powered by electric motors. 'Regenerative braking' is used in both: hybrid as well as pure electric vehicles.
The KPIT bus leverages Li-Ion batteries and multiple AC induction motors. The controller can bring in one or more motors online, depending on the power/torque requirements. The bus has a range of 100-200 km (depending on the Li-ion battery packs configuration). The motors can generate power between 80-240 KW with a Torque in the range of 450-600 Nm (depending on the selected configuration). The KPIT electric bus technology has been specifically adapted to Indian conditions.
The KPIT electric bus also integrates with the KPIT intelligent transportation system and provides real-time monitoring of bus including location, vehicle health and driver behavior, along with traffic data and performance. On-board diagnostics and related remote monitoring is also available.
KPIT is working with CIRT and other concerned authorities to further refine this technology as well as the necessary certifications. Going forward, there are two primary business models for KPIT: Working with OEMs and Retro-fitting existing vehicles.  They are also in discussions with various OEMs regarding 'embedding' their technology.
KPIT estimates that their electric bus costs will be significantly lower than other solutions, given the indigenous technology developed and the 'Make in India' push. The currently available electric buses range from INR 2.7 – 4+ crores, and KPIT's solution will be a fraction of that.
Do note, the pay-back period should not just focus on the monetary savings, but the reduction in pollution and CO2 emissions. This will be a key driver for the adoption of electric vehicles in our congested, polluted cities.
It's good to see this kind of innovation and R&D happening in Pune, especially in the area of manufacturing and transportation (not just pure IT).