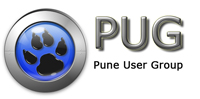 Rizmos Solutions in conjunction with the Pune User Group (which really, really needs to rename itself as the Pune Microsoft Technologies User Group) is hosting a half-day seminar about Microsoft Sharepoint. Both speakers are from Rizmos (technically, eTek which is Rizmos' parent company), which provides consulting and services in this space. Hopefully, they will talk more about SharePoint and less about their services. 
If you don't know what SharePoint is, now is a good time to
find out
:
It is an important "
enterprise 2.0
" technology that you should know about.
Details:
Thursday October 2, 2008 from 9:30am – 2:00pm
09:30 am Reporting
10:00 am Welcome
10.15 am Key note (Mr. Robert Bye)
10.45 am Tea Break
11.00 am Opportunities in sharepoint (Mr.Ameet Phadnis)
01.00 pm Lunch  
For more info about the speakers, see here.
This event is free for all. Register here.
As usual, see the PuneTech calendar for the latest and greatest tech events in Pune. And if you like PuneTech, please email your friends about it.