What: Pune (Microsoft Technologies) User Group's Microsoft Office 2010 Launch Event
When: Saturday, 7 August, 9am-1pm
Where: Sumant Moolgaonkar Auditorium, ICC, SB Road
Registration and Fees: This event is free for all to attend. Register here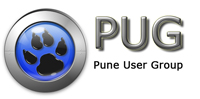 PUG Developer Summit
Microsoft Office 2010 Launch Event
Pune's Microsoft Technologies User Group will have a half-day event this Saturday to give developers details of the latest features in Office. Pushkar Bhat will speak about what's new in Microsoft Office 2010, and Aviraj Ajgekar will talk about Microsoft Online Services.
About the Speaker – Aviraj Ajgekar
Aviraj is a Computer Engineer from Mumbai and currently working with Microsoft India. In his present role he's accountable for managing IT Infrastructure of Microsoft India – West Region. An active member of IT Professional communities across India specially Mumbai User Group and Pune User Group supported by Microsoft. A real blogger, he is very compulsive on adding his thoughts to online blogs, forums, community and media. You can check his technology blog at http://blogs.technet.com/aviraj. He is very fanatical about speaking on IT Professional topics such as technology screencasts for Microsoft TechNet EDGE @ http://edge.technet.com/people/aviraj. He a regular speaker at various Microsoft Events such TechEd, MS TechDays, Virtual TechDays, Microsoft India Webcasts and many more technology events. In his spare time he likes to spend time with his family, hang around with friends, listening to rock music and he's also passionate about long drives. You can follow him on twitter @aviraj111
About the Speaker – Pushkar Bhat
Pushkar is a Solution Specialist at Microsoft; he works with customers in the Manufacturing and ITeS vertical on solutions for Business Intelligence, Collaboration, Portal Strategies, Document Management and Business Process management. His specific area of interest is in B2B and B2C Collaboration Portals which integrate analytics and innovation management frameworks for large enterprise. Another area which I have worked off and on is Enterprise Project management. He is also keeping alive my interest in the area of Demand Planning, Supply chain optimization, Sales Reporting and Sales Force Effectiveness.