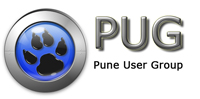 This post by Pradnya Naik explains what Acad DevCon 2009 is, and why you should attend, and is reproduced here with permission.
ACAD DEVCON is a major event organized by Microsoft Student Partners and PUG in Pune to explain the most innovative and cutting edge technologies in Microsoft. So the question is who are Microsoft Student Partners and what is PUG?
Microsoft Student Partners are a group of enthusiastic students selected by Microsoft who love to explore and experiment with Microsoft products. Our main aim is to share knowledge among the student community because we believe in the proverb "teach one teach all".We have been conducting developer's conferences for students since 2005 and all events have been a major success…. The areas of interest not only limit to developing web based and windows based applications but also expand in areas of servers, operating systems and robotics.
Pune User Group is an association of professionals and students interested in technology who are dedicated and devoted to the noble cause of spreading knowlege. Every year PUG organises an event named DEVCON for professionals where experts address and give sessions to developers community. At present the whole organising team in Pune is an interested group of 25 people including MSP's and the members cross the mark of 3000.
ACAD DEVCON is an event to get students from all colleges under one roof to share, collaborate and communicate ideas about their knowledge on various MS technologies. The sessions are interactive accompanied with onspot demos for better understanding of the subject.
What more !!!every student who attends ACAD DEVCON gets a kit for developing excellent applications on full version softwares provided at no charge.
So what are you waiting for!! Be there on 18th Jan, 2009 at COEP for ACAD DEVCON, 2009
For more information please click on ACAD DEVCON, 2009
About the author – Pradnya Naik
Pradnya, in her own words:
I go about the saying "Love what you do ..Do what you love.." A student by profession I love art, music, dance, travel and sports. I am a technology enthusiast and love working with computers. I believe that there is no end to learning and spreading knowlege and perfection comes with speed. I love to teach and so I became a Microsoft Student Partner, wherein I explore and explain Microsoft technologies to student community. It has been real fun to be a part of this campaign… So explore my blog to know me more… and ya keep smiling and be Happy…
You follow Pradnya's blog, or you can follow her on twitter.
Related articles by Zemanta