What: TechMarathi meeting, featuring "How to build Marathi Websites" with Prasad Shirgaonkar
When: Saturday, 25 Sept, 4pm-7pm
Where: Symbiosis Institute of Computer Studies and Research, Atur Centre, Model Colony. Map.
Registration and Fees: This event is free for all. No registration required.
Details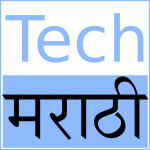 This will be the second get-together of TechMarathi and this time, Prasad Shirgaonkar of http://MarathiWebsites.com will talk about how to go about building Marathi websites.
About TechMarathi
http://TechMarathi.com is a forum that aims to bring all information about software technology in Marathi to technology professionals who are still more comfortable with Marathi than English. The website contains articles that are translations into Marathi from sources all over the world, and also original Marathi content. TechMarathi also holds technology events where the primary language is Marathi.
TechMarathi was started by Nikhil Kadadi and Pallavi Kelkar and is a Special Interest Group of PuneTech.