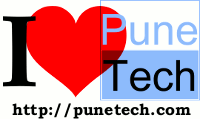 Today is PuneTech's first birthday.
The first post on PuneTech was on March 6th 2008. (Check it out, you might still find that article interesting.) In the one year, we have come a long way. We've learnt a lot. Some things we tried haven't worked out, and some things we tried succeeded beyond our expectations. But overall, the feedback we are getting is that people like what PuneTech has to offer. So, on our first birthday, we feel like celebrating, and we want our birthday gifts – if you like PuneTech, please take some time out to spread the word, and get other people to subscribe to PuneTech updates.
For the rest of this article, we are going to get a little teary-eyed and ramble about the journey so far. So if that doesn't sound very interesting to you ("How can you?!") please skip this article and instead read the "Spread Punetech?" article, where are asking for specific help from you in spreading the word.
I (i.e. Navin)  had actually been thinking ab0ut creating something like PuneTech since maybe 2005. I registered PuneTech.com in June 2007, and finally started the site about 9 months later (insert your own joke here). When I started it, my original vision was that PuneTech would be a mini-wikipedia for technology in Pune. So my primary focus was on creating the PuneTech wiki, and as an afterthought, I added the PuneTech blog. The idea was that until there was a critical mass of people updating the wiki, there should be some reason for people to keep visiting the site, and hence I hit upon the idea of having a blog that I update every day. Also, since there wasn't much content on the wiki initially, I made the blog the front page, and was planning to switch the front page over to the wiki "in six months". Unfortunately, the wiki never really took off in the way I had hoped, and it remains a poor, neglected half-brother, while the blog is going great guns. Oh well. Man proposes, community disposes.
PuneTech reaches about 780+ email/rss subscribers, and an additional 400+ daily visitors to the website. The bad news is that this number is rather low considering the number of software technologists in Pune (help us change this, see spread PuneTech). The good news is that the ones we have, are really interested in Pune and technology, so we get focused attention of our readers. But the most interesting part of doing PuneTech, for us (i.e. Navin and Amit who joined PuneTech a few months after it was created), has been the offline activities. We've met so many interesting people in Pune that we were totally unaware of an year ago. Our knowledge of what goes on in Pune has tremendously increased. Due in part to this knowledge, we have been able to help out a lot of people in providing information or making connections. Business deals have happened because of introductions we made. People have found senior employees for their companies because of us, or because of events we organized. Small startups have discovered new avenues to market their products because of information supplied by us. All of this gives us a great sense of achievement that our regular jobs did not necessarily give. For what is supposed to be an unpaid, part-time hobby, PuneTech is a huge time-sink for us, but the satisfaction we get out of it is immense. And we'd like to share this with others – if you like doing lots of unpaid work, get in touch with us.
What next? We have a lot of ideas for what to do with PuneTech, and the community also gives us lots of ideas about what they would like to see. The biggest constraint is time. Every new feature added to PuneTech results in a little more of our time spent on it per week (without which it would atrophy and die). We are struggling with a long todo list and not enough time to do it in (who isn't!?) So we prefer to make slow and steady progress that we can sustain. We won't promise lots of new features, but definitely hope for some new ones to crop up from time to time.
Of course, this process can be accelerated if more people join the volunteers working on PuneTech. Currently it is just me (Navin) and Amit, with occasional help from others in the community. What would be great is if people join us and take over an entire activity (like event co-ordination, or creating content related to animation technology, or mobile technology, or fixing the usability and look-and-feel of PuneTech). We are in the process of writing out a more detailed "We need your help document," but in the meantime, please feel free to contact us with thoughts on how you can help. The best kind of help is when you can guarantee at least 3 or 4 hours per week for 6 months or more.
But one thing you can help us with right away is this – spread the word. Please let your friends know about PuneTech. Please consider putting up an "I love PuneTech" badge on your blog/website. For more details, see the "Spread PuneTech" page. Consider this a birthday gift to us. For your return gifts, subscribe to PuneTech.