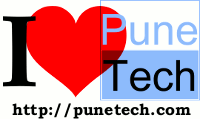 Today is PuneTech's first birthday, and as a birthday gift, we are asking our readers to spread the word about PuneTech through emails, blogs, twitter and other means. (Update 1: Honorary Punekar Sushrut Bidwai has written a nice post giving the reasons why he likes PuneTech. I think he has managed to articulate very well a lot of the things we have been striving for with PuneTech. Please take a look at the article and comments there. Update 2: The community is doing a better job of articulating what PuneTech is than we are able to do ourselves. Dhananjay Nene, has a post giving insights into the role that PuneTech plays in the tech community in Pune. Update 3: Sahil Khan of The Tossed Salad called me up for a mini-interview to produce this article. Update 4: Rohit Srivastwa has a great post about what "PuneTech is…" according to google)
Why the blatant begging? Read on.
PuneTech is a non-commercial, by the community, for the community site. Which means that any and all publicity/marketing for PuneTech happens only one way: word of mouth. And that's your mouth and your blog that we are talking about. So here's what we are asking for:
If you don't love PuneTech, let us know why. And give us some time to fix it – we are volunteering only part of our time on this. But if you do love PuneTech, help us spread the word. Send email to a few of your friends who are techies in Pune asking them to subscribe to our updates by email or via RSS (free!) That is the main thing we care about – more subscribers. Because, the value that a community provides to its members is directly proportional to the square of the number of members. Also, if someone visits the website directly, there would be days when they forget, or are too busy, and miss some updates. In contrast, a subscriber is forever.
The other thing that we care about is google rank. A search for "Pune technology" results in a PuneTech page showing up as the second link (at least for us – google search results are different for different people, so please don't flame us if you see different results). Strangely, that link is to the PuneTech wiki page about the PuneTech linked-in group. And, sometimes there is a sub-link to Amit's article about whether Pune can emulate Silicon Valley. While I don't understand why the PuneTech front page is not ranked higher than these articles, I am happy that at least this showed up. (By the way, have you joined the PuneTech group on linked-in? Considering that it is the second search result, you probably should 🙂
But what I find extremely irritating is that the first link Google throws up for this search is a ridiculously outdated, ridiculously incomplete listing of IT companies from PuneDiary (http://www.punediary.com/itcomp.html). I cringe to think that this is the first impression about Pune for people all over the world searching for "pune technology." I've tried contacting the PuneDiary people, and suggested that they update that page with PuneTech content (all our content is CC-licensed). I even offered to update the page myself and keep it updated without asking for anything in return. But no response.
So now I'd like to go on the warpath. I would like to knock that page off the top of the google search results. I want "pune technology" to be linked with the PuneTech front page. I believe that, while not perfect, it is a much better indicator of the activity and energy of the software technology community in Pune.
So who is with me? If you agree, please link to the PuneTech front page from whereever it is appropriate. And let others know why. If possible, put up an "I love PuneTech" badge. (If you don't agree, please let us know why in the comments below, and suggest an alternative. Because the current number #1 search result is completely unacceptable.)
Here are the "I love PuneTech" badges that for you to put up somewhere. If you would like a different size, please let us know. If you are a graphic designer and can come up with better badges, please, please do so and let us know.

http://punetech.com/files/I_love_punetech_logo-135x80.gif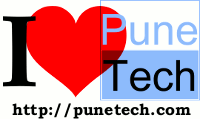 http://punetech.com/files/I_love_punetech_logo-200x119.gif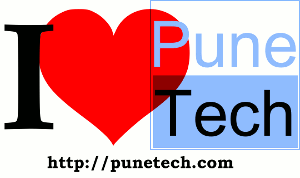 http://punetech.com/files/I_love_punetech_logo-300x178.gif
For larger images (i.e. if you want to make a T-shirt or a mug) check out

http://punetech.com/files/I_love_punetech_logo-506x300.gif
http://punetech.com/files/I_love_punetech_logo_large.gif
Dhanesh Shivanandan of Pune IT Labs has created some more badges for us.


http://punetech.com/files/I_love_punetech_logo2-120x120.jpg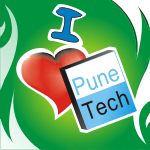 http://punetech.com/files/I_love_punetech_logo2-150x150.jpg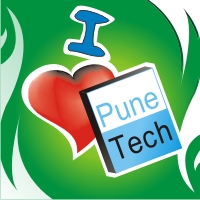 http://punetech.com/files/I_love_punetech_logo2-200x200.jpg