What: TechMarathi kickoff lecture, featuring technology trends with Harshad Oak, and introduction to typing in Marathi using Baraha, Quillpad, Google Transliterator, and Lipikaar
When: Saturday, 19 June, 4pm-7pm
Where: Symbiosis Institute of Computer Studies and Research, Atur Centre, Model Colony. Map.
Registration and Fees: This event is free for all. Register here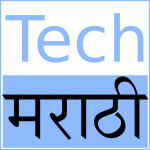 Trends In Software Development For The Java Platform.
Harshad Oak is the founder of Rightrix Solutions & editor of http://IndicThreads.com and the author of 3 books and several articles on Java technology. For his contributions to technology and the community, he has been recognized as an Oracle ACE Director and a Sun Java Champion.
Harshad will talk in Marathi about what the next 5 years have in store for the Java Platform
How to type (email, blog, doc etc.) in Marathi?
Mandar Vaze has 15+ years of experience in IT industry. He is currently working as Senior Module Lead at Avaya India. Mandar will talk about how to type in Marathi using Baraha, or Quillpad, or Google Transliterate
Using Lipikaar to type in Marathi
Lipikaar is a Pune-based startup that takes a very different approach to typing in Marathi. It uses a "sms-style" typing rules, and they claim this is much easier for people who are not very comfortable with English, compared to the other styles of marathi typing.
Neha Gupta and Praman Shetye of the Lipikaar team will talk about the how and why of Lipikaar.
About TechMarathi
http://TechMarathi.com is a forum that aims to bring all information about software technology in Marathi to technology professionals who are still more comfortable with Marathi than English. The website contains articles that are translations into Marathi from sources all over the world, and also original Marathi content. TechMarathi also holds technology events where the primary language is Marathi.
TechMarathi was started by Nikhil Kadadi and Pallavi Kelkar and is a Special Interest Group of PuneTech.