What: Microsoft Visual Studio 2010 Community Launch by Pune (Microsoft Technologies) User Group
When: Saturday, 17 April, 9:00am
Where: Bajaj Gallery, MCCIA Trade Tower, 5th floor, ICC, S.B. Road
Registration and Fees: This event is free for all to attend. Register here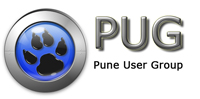 Visual Studio 2010 Community Launch
This event will essentially be a day-long conference with various talks on topics related to Visual Studio 2010, from basic Windows Development using Visual Studio 2010, to Windows Phone 7, and how to improve your software development processes using VS2010.
See the full agenda here.
See the list of speakers and speaker bios here
About PUG
Pune User Group (aka PUG, pronounced as pag) is a not-for-profit organization, A User Group supported by Microsoft Corporation, International .NET Association (INETA) for technology enthusiasts. PUG provides a platform for everyone to share their knowledge and valuable experience with rest of the world. Pune User Group was founded in early 2003. PUG has formed Campus Clubs in most of the engineering colleges, where PUG speakers explain the latest buzz in technology to the students. PUG also has a gang of Microsoft Student Partners who are highly passionate about technology and willing to share their knowledge with others. PUG also has separate chapters like PUGStudent PUGITPro, PUG-MED (i.e. Pune User Group for Mobile and Embedded Devices). Along with monthly user group meetings PUG also organizes its annual event 'INETA DevCon' which is an event with separate tracks for students and professionals.
Who can join?
At this time, membership in PUG is free to everyone, regardless of geographic location, technical focus, or affiliation. Professionals, students interested in .Microsoft Technology will find the most value in active involvement with PUG.
How to get involved â a call for volunteers!
PUG relies heavily on the ideas, personal time, and energy of its membership, leaders, and officers. If you are interested to contribute to the PUG activities, looking for a way to help, grow with your peers, and find out about volunteer opportunities; email your details to mahesh@puneusergroup.org
Sponsorships – PUG relies on the support of its sponsors, and is presently organizing plans for working with companies and organizations interested in partnering with PUG for financial, logistical, content, or other types of support. If you are interested in partnering with PUG, contact us at mahesh@puneusergroup.org