LinguaNext, a Pune-based company that provides a "langauge management platform" for software products, has raised a round of funding form Helion Venture Partners, reports VCCircle.
LinguaNext creates software products that allow enterprise software to be "localized" to one or more languages without requiring any change in the source code of the software.
What is Localization?
Most software in the world first gets written with English as the language of interfacing with the user. The menus are in English, and the messages, and labels on forms, and user interface buttons are all in English. If the same software needs to be used by a Japanese person who does not understand any English, she will either have to memorize the meanings and locations of the various English menu options and buttons, or the software needs to be modified such that all the English in the interface is replaced by Japanese. The same thing needs to be repeated for every major language in the world (where the company has customers).
This process is called Localization
Why is Localization Hard?
All the places in the source code of the software where English might be embedded, and all the images used in the user-interface need to be replaced. This is a huge task, because often, enterprise software contains millions of lines of code.
And this has to be done for dozens of languages, if not 100+.
And this can't be done just once. Because every time the original software is updated, the various localized versions need to be updated.
Sometimes, the source code of the software might not even be available, or it might be too difficult to change.
What does LinguaNext do?
LinguaNext has products that allow their customers to localize the software they sell without having to modify the source code of the software. They can attach themselves to running programs, and modify the user interface screen of the software on the fly, and replace the English text with the appropriate text from the target language. Similarly, with web-browser based software, they can modify the HTML/JavaScript that gets generated by the software and do the language replacement before the webpage is sent to the user.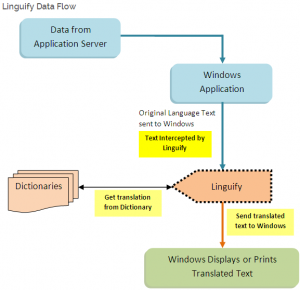 This is excellent for the customer. Being able to localize a software without having to modify the source code is a dream of the marketing department (which, otherwise has to deal with the tech guys before they start selling any version of any software in a new country).
But, there are lots of little problems that need to be solved to make this a reality. For example, consider this tricky problem: what happens if the space on the screen (in the menu dropdown, or on a button) isn't wide enough for the new word that they want to put there. i.e. if the Hindi word that replaces a particular English word is very long and it won't fit. They solve this problem by having language experts who are able to suggest alternative words that are smaller, or by developing special narrow fonts to fit in words like these.
Although technically LinguaNext was started only in 2010, the core technology for LinguaNext, and the CTO of the company (Rajeevlochan Phadke), both come from an earlier company called Image Point that was around – doing similar software – since 2002. In other words, they have been developing, fine-tuning and selling this software for a dozen years.
They do this with Oracle or SAP Applications, HR Applications, Cloud Apps, Windows Desktop Apps, and now Mobile Apps are the next big target. LinguaNext already has customers such as SBI (State Bank of India), Punjab National Bank, and sofrware maker SAP.
What will they do with the funding?
According to the press release, they will use the funding to "expand in international markets, hire talent and scale up its mobile platform." Going to Japan and Europe is likely to be one of their major priorities. India has lots of local languages, and lots of need for localization, but really, Indian companies don't really like paying for software. Japan and Europe has the non-English speaking people who pay lots of money for software. And of course, as any website owner will tell you, mobile apps are taking over the world, and soon, localization of Android and iPhone apps is likely to be a huge market.