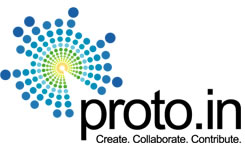 Proto.in, the premier startup event in the country, is happening in Pune this Saturday, so the who's who of the startup world will descend upon Pune. This is a chance for Pune's entrepreneurs and wannapreneurs to meet interesting people. Unfortunately, proto.in had limited seats and they are all gone, so, on popular demand, proto. in has created a pre-proto networking event for all those who will not be at proto.in – to give them a chance to network with the visitors who are coming in to town for proto.in.
The event will be on Friday, 24 July, from 5pm to 7pm at Hall No. 5, MCCIA Trade Tower, ICC Complex, S.B. Road. A fee of Rs. 100 will be collected at the door. If you want to attend, send an email to Maya at maya.m@mentorsquare.com.
What to expect at the event? There will be some sort of a panel discussion on "Transforming Business Environments." I have no idea what that means, and the topic is so generic that I'm sure the discussion will also be generic. But don't let the prescribed agenda fool you. The agenda and panel discussion is only there to get all the people in one room. The real benefit of going to such events is the networking that happens before and after (and some of it during) the event. You meet people who can help you find customers, people who can provide some useful service to your startup, people who just generally give you some insightful piece of advice that can change the course of your startup, people who over time become advisors for your startup (we met the most important advisor of our startup at one such event).
3 hours and Rs. 100 is a low price to pay for all these opportunities.